Check out the Tourism Vernon local events calendar →
---
Okanagan Rail Trail
From Dusty Spokes down to the Okanagan Rail Trail is about 3 minutes on a bike and about 10 minutes walking. Once you're on the Rail Trail you can head south all along Kalamalka Lake to Lake Country. From the Rail Trail to Dusty Spokes…well it's a few more minutes coming up than it takes to get down, but a cold beverage on the patio will be worth it!
---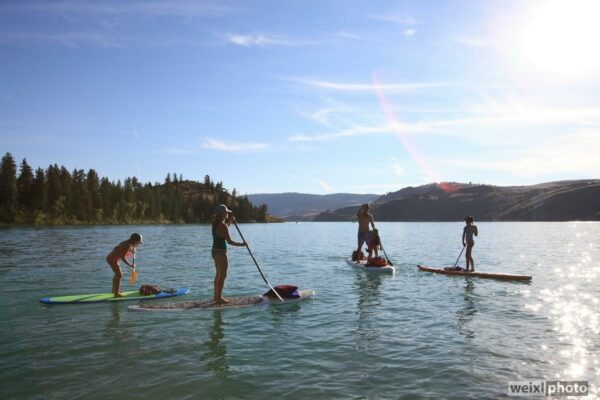 Kalamalka Lake
The stunning gem of the north Okanagan, Kalamalka Lake is your view from Dusty Spokes. But looking at it will hardly be enough. A quick walk or bike ride takes you to several beach access points, or to Kalamalka Beach and pier. Take a scenic bike ride or drive to Kalamalka Lake Provincial Park and within minutes you'll be on the trails to the blue green waters of Jade and Juniper Bay. Kalamalka Lake Provincial Park is well known for mountain biking and hiking, and as a destination for paddlers.
---
Hiking and Biking in the North Okanagan
Join the outdoor enthusiasts in the north Okanagan for hiking or mountain biking. Dusty Spokes is centrally located for easy access to a multitude of trails.
---
Greater Vernon Athletics Park
The Greater Vernon Athletics Park is located near the Okanagan College Vernon campus grounds and is about 6 minutes walking from Dusty Spokes. If you are visiting the area for an athletics event or just like to use the facility, your warm up and cool down are taken care of with the walk over. Guests who are competing at the athletics park are welcome to request special timing for breakfast service in order to accommodate event times.
---
Okanagan College – Vernon Campus
Coming to Vernon to take a course? No parking required. Okanagan College Vernon campus is a 5 minute walk.
---
Wine Touring
The Okanagan Valley is home to more than 200 wineries. Before I worked for the fire department I was an assistant winemaker in the Kelowna area. If you are interested in wine tasting or touring, please ask me how I can help make your arrangements or be your private tour guide and driver. Guests staying at Dusty Spokes one week or longer May to September are offered a complimentary private happy hour wine tasting featuring local favourites.

---
FOR MORE INFORMATION ABOUT WHAT TO DO, WHAT TO SEE, WHAT TO EAT AND HOW TO ENJOY THE NORTH OKANAGAN PLEASE VISIT www.tourismvernon.com

To see more excellent photography by Don Weixl please visit www.donweixl.com