Check out the Tourism Vernon local events calendar →
---
Okanagan Rail Trail
From Dusty Spokes down to the Okanagan Rail Trail is about 3 minutes on a bike and about 12 minutes walking. Once you're on the Rail Trail you can head south all along Kalamalka Lake to Lake Country. From the Rail Trail to Dusty Spokes…well it's a few more minutes coming up than it takes to get down, but a cold beverage on the patio will be worth it!
---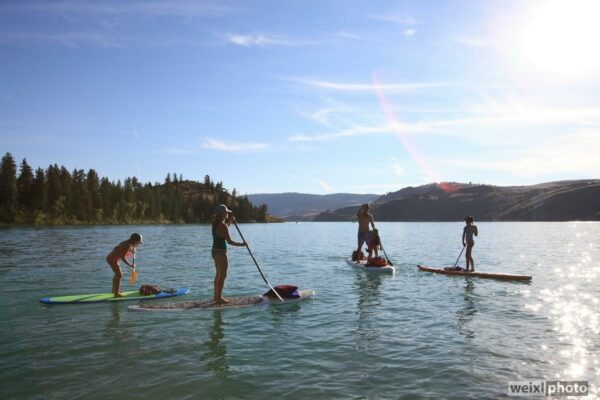 Kalamalka Lake
The stunning gem of the north Okanagan, Kalamalka Lake is your view from Dusty Spokes. But looking at it will hardly be enough. A quick walk or bike ride takes you to several beach access points, or to Kalamalka Beach, Kalavida Surf Shop and the pier. Need a break? Check out out the Rail Trail Cafe, adjacent to the beach. Enjoy a scenic bike ride or drive to Kalamalka Lake Provincial Park and within minutes you'll be on the trails to the blue green waters of Jade and Juniper Bay.
On the East side of the water, the Park is well known for mountain biking and hiking, and as a destination for paddlers. Launch at Kekuli Bay on the West side, and paddle along the rail trail, or make your way across the lake to popular Cosens Bay.
Silver Star Mountain Resort
The Okanagan is not just a summer playground! We are 35 minutes drive from fabulous Silver Star Mountain Resort. The beautiful Victorian themed resort is a magical place, with interconnecting trails to Sovereign Lake Nordic Centre, and a big range of downhill and apres ski options. Check out Brewer's Pond for some skating, and take a few runs on Tube Town, before relaxing over a beer in the village. If you are interested in a stay up there, chat with me before booking, I may be able to make my studio condo there available as a private Dusty Spokes rental arrangement.

Hiking and Biking in the North Okanagan
Join the outdoor enthusiasts in the north Okanagan for hiking or mountain biking. Dusty Spokes is centrally located for easy access to a multitude of trails.
---
Greater Vernon Athletics Park
The Greater Vernon Athletics Park is located near the Okanagan College Vernon campus grounds and is about 6 minutes walking from Dusty Spokes. If you are visiting the area for an athletics event or just like to use the facility, your warm up and cool down are taken care of with the walk over.
---
Okanagan College – Vernon Campus
Coming to Vernon to take a course? No parking required. Okanagan College Vernon campus is a 5 minute walk.
---
Wine Touring
The Okanagan Valley is home to more than 200 wineries. Before I worked for the fire department I was an assistant winemaker in the Kelowna area. If you are interested in wine tasting or touring, please ask me how I can advise a route, or be your private tour guide.

---
FOR MORE INFORMATION ABOUT WHAT TO DO, WHAT TO SEE, WHAT TO EAT AND HOW TO ENJOY THE NORTH OKANAGAN PLEASE VISIT www.tourismvernon.com

______________________________________________________
VERNON JUBILEE HOSPITAL
THE HOSPITAL IS ABOUT 5 MINUTES DRIVE, OR 20 MINUTES WALKING (OFF TRAFFIC PATHWAY) - IF YOUR STAY IS RELATED TO MEDICAL SERVICES, OR SUPPORTING SOMEONE RECEIVING MEDICAL SERVICES, PLEASE LET US KNOW SO WE CAN MAKE YOUR STAY EXTRA QUIET AND RELAXING.