Come Explore
By Bike, By Foot,
or By Paddle
---
Then relax on the patio,
pour a cold beverage and plan your next adventure
Minutes from the rail trail, with comfy beds, self guided breakfasts, and a beautiful lake view.
---
Dusty Spokes is a two bedroom suite, with a large bright master bedroom, a second bedroom, luxurious bathroom, and a large open concept living area. It's the perfect getaway to enjoy the best the Okanagan has to offer.

Location
Close to everything, really.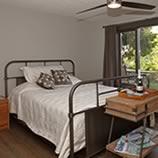 Comfy Beds
Luxurious linens, reading lamps, travel magazines.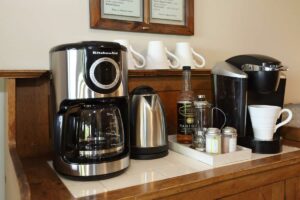 Self-Guided Breakfast
Local vendors, seasonal bounty, choose your fuel

Views inside & out
Stunning Kal Lake outside, relaxing surroundings inside.
We travel not to escape life,
but for life not to escape us.
---
What I have loved most about traveling has been the opportunity to meet the locals, and especially, to learn about where they live and know their stories.
Dusty Spokes offers us a chance to share our love of the Okanagan with our fellow travelers.
Learn more about us